11 Style Steals on Sale
Some of my favorite Pieces are on sale!
Check out the 11 items (well, actually 12 items) below and click "shop it" to shop it directly from the source. <3
Cedar Maxi Dress, Flynn Skye, Now $152 (originally $216)
This is the kind of maxi you can have in your closet and wear over and over again. (I'm speaking from experience because this is the same dress I'm wearing in the above picture and it's easily one of the most-often worn pieces in my wardrobe. And for what it's worth, I bought it on sale as well! :)) Easy to dress up or down, this cut in maroon is currently on sale for only $152, marked down from its original price of $216. Boots, flats, heels -- leather jackets, jean jackets -- clutches or casual bag, it's a versatile piece that can will allow you a lot of bang for your buck.
Photo Credit: Revolve.com
Cedar Maxi Dress, Flynn Skye, $216 (*not on sale)
In case you love the dress above, but don't love the color (maybe maroon isn't your thing!) I had to put in a plug for the same dress in a different print although it's admittedly not on sale. This one on Revolve is in Flynn Skye's "tiny bunches" print and would be perfect for spring.
Photo Credit: Revolve.com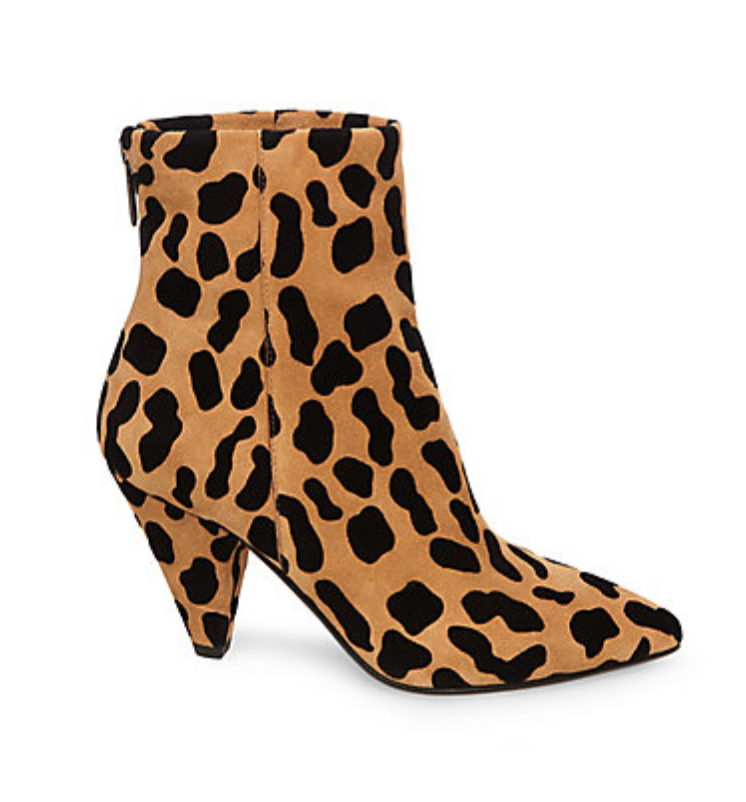 Molly Bootie, Steve Madden, $99.98 (originally $169.95)
My pair of leopard booties in the photo above I can't find anywhere anymore (I've had them a while) but I was ecstatic when I stumbled upon these amazing booties the other day. Not only are they on sale, but the narrow toe and pointed heel is so on-trend I'm tempted to make the leopard bootie switch over to these! It's a great pop for any outfit.
Photo Credit: SteveMadden.com
Dauphne Velvet Trim Jumpsuit, L'Agence, $189 (originally $645)
SOMEONE PLEASE BUY THIS JUMPSUIT. I'm jumping out of my seat over here (or should I say jumping out of my suit??...haha okay bad joke...let's continue...) because the markdown on this incredible piece is just too good to pass up. Intermix only has it available in a few sizes, so if yours is still in stock - go get it girl!! This jumpsuit is so chic it's an investment that's well worth it. And if you buy it, please tell me you did so I can virtually high-five you.
Photo Credit: Intermix
"Down by the Bay" Blue and White Striped Two-piece Dress, Lulus, $47 (originally $78)
This nautical two-piece is a great option for refreshing your spring/summer wardrobe. A set is a quick way to look instantly put together without having to stare blankly at your closet waiting for inspiration to strike. Plus the cut on this crop hits at the right amount of "showing a little skin" without showing too much.
Photo Credit: Lulus.com
Mito Stripe Skinny Jeans, Rag & Bone/Jean, $139 (originally $250)
Track pants are making a major comeback. While it gives me all the nostalgic vibes for middle school when I wore tear-aways with intense frequency, I think it's such a refreshing update that the style is returning in a more formal/dressy way. Case in point: these skinny jeans from Rag & Bone. Trouser-style track pants are also available at a few places online and I seriously love that we can wear these bottoms with heels now. It elevates the pants in a way that they truly deserve because really, who can argue with comfortable pants as an acceptable form of going out attire? The pants deserve this -- and *WE* deserve this.
Photo Credit: Intermix
Denise Plaid Shirt, L'Agence, $99 (originally $325)
A plaid shirt is a solid closet stapel. This cut is uber flattering (not too lumberjack-esque) and the color palette is flattering on a wide array of skin tones. The back of this is solid black which also provides an unexpected twist. Plus that markdown is hard to beat!
Photo Credit: Intermix
Center Mini Dress, Privacy Please, $73 (originally $158)
A light, flowy mini dress for spring is made even better when you can get it on sale. A floral print makes this otherwise black dress slightly more playful. The back on this dress is the selling point though! Click the image below to take a look.
Photo Credit: Revolve.com
Off Shoulder Pullover, Kendall + Kylie, $19 (originally $95)
This top perfectly embodies to me what I think would be a great answer to the often-encountered dilemma of, "I want to look cute, but I don't want to make it look like I tried too hard." This slightly oversized black off-the-shoulder top accomplishes just that. Tuck it in to show off your waist and pair with any form of denim you like. You're good to go!
Photo Credit: Kendall-Kylie.com
Boho Short, Nobody Denim, $90 (originally $149)
These shorts are a great summer staple. Lightly distressed with a light wash and cut at an angle to make them super flattering on your legs.
Photo Credit: Revolve.com
Crosstown Bucket, Cleobella, $132 (originally $249)
There is so much boho goodness in this bag. Black makes it versatile for a multitude of outfits, while the structured bucket shape is a cool juxtaposition to the bohemian leather braiding. This has your festival needs covered.
Photo Credit: Revolve.com
Memphis Dress, Flynn Skye, $103 (originally $158)
As you may be able to tell from this article, I'm a huge fan of Flynn Skye. Her prints are unique and her clothing just feels effortless. I love the fabric choker/collar touch anddddd it's on saleeeeee. [Insert celebration or confetti emojis here!] I am adding this to my shopping cart as we speak...
Photo Credit: Revolve.com