Staying 'Armed In Style': Getting to Know Heather Roberts Behind the Brand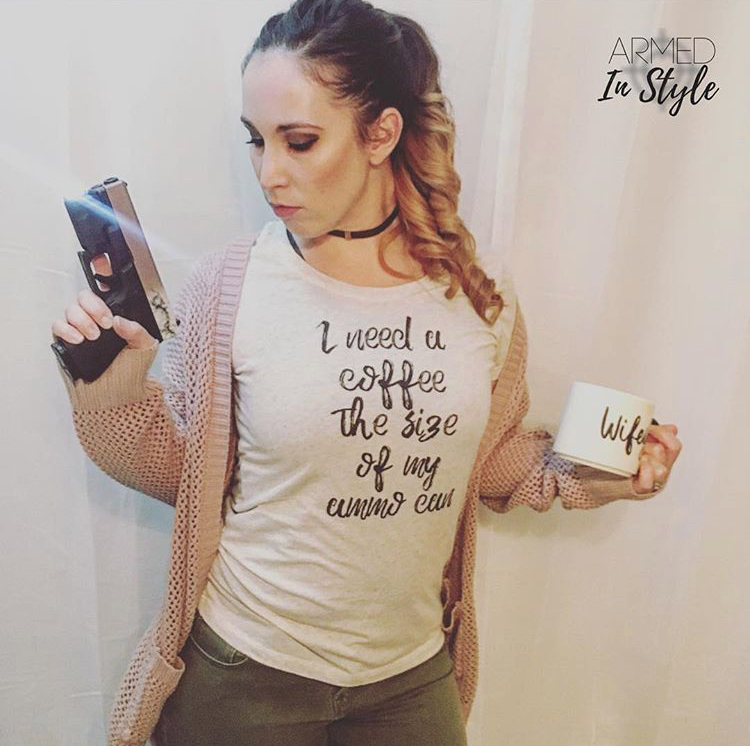 Quick Facts: @ArmedInStyle
Something You Would Like to Learn: I think it would be cool to learn all about growing our own foods. I've had a few tomato and pepper plants in the past, but I mean like asparagus, spinach, just like all the growable foods. I have this expectation that it would taste so much better and be so cool to grow our own stuff.
What Three Items Would You Take on a Desert Island with You, Other Than Food and Water? I've always included mascara when someone asks this, but realistically I'd take my Bible, fire starter, and long knife.
Name: Heather Roberts
Town: Knoxville, TN
Occupation: Dental hygienist and Armed In Style designer/owner
Favorite Breakfast Food: Veggie omelet with cheese and bacon on the side
Favorite Quote: "The greatest moments in life are not concerned with selfish achievements but rather with the things we do for the people we love and esteem" - Walt Disney
Favorite Place: Disney World
Staying 'Armed In Style': Getting to Know Heather Roberts Behind the Brand
Heather Roberts is the woman behind the clothing brand, Armed In Style. Focused on current and stylish options for women in the 2A community, her business was an idea born out of a lack of options that really spoke to her when choosing something to wear.
I first started following her brand on Instagram because her items kept popping up in my feed. Other people I follow would post something of hers and I'd think, "That's a really cute mug." And I'd keep scrolling. Later in the day, "Oooh that dry fire pillow is super cool...that would totally fit on my couch." And I'd keep scrolling. A few days would go by and then I'd see a shirt that personally defines me on Monday mornings; one that says "I need a coffee the size of my ammo can."
Finally I realized that all of these great items were coming from the very same place: Armed In Style, courtesy of Roberts who is a dental hygienist by day, and designer for her brand by night.
I wanted to hear more about her personal story and what she sees for Armed In Style in the future. As women are an increasingly growing demographic of those who purchase firearms, it's an exciting time to develop more options to meet this growing female audience.
Heather Roberts talked with me via e-mail about what inspires her, what it's like to be a military family, and what gets her out of bed in the morning. Read below <3
SR: Hi Heather! Tell me a little bit about yourself so 2nd To None readers can get to know you and your background.
HR: I was born and raised in Knoxville, TN. My dad is a dentist and my mom is a dental hygienist. My sister and myself are dental hygienists and we work with our dad. It's so super cool! My brother is a doctor, black sheep in the family because he didn't go into dentistry.
I met my husband when I was 16. It was pretty much love at first sight, really. We were inseparable after we had our first date about three weeks after we first met. We will be married 10 years in May and we have two beautiful, healthy, and strong boys, Dryden is 6 years old and Drake is 4 years old.
Some of my personal interests are of course, guns, shooting, fashion, and style, but also, snowboarding, fitness, interior decorating, hiking to waterfalls, pretty much all awesome stuff. LOL. I played basketball all my life -- even through high school on my high school team -- so I can ball...or used to be able to, it's been a minute.
I am passionate about Disney World. We try to go at least every other year and it's the best thing ever! It's definitely my happy place.
I love to challenge myself, so I love running and pushing myself to new distances. I'm starting to get into weightlifting and some powerlifting, so that's pretty cool. Seeing muscles grow and strength increase.
Sad fact about me: I'm pretty much allergic to all animals, so I can't have pets. It's sad and they look so cuddly, but I would literally die and not be able to breathe if we had one.
Fun fact: I can do a cartwheel, like really well. LOL. I'm turning 30 this month, so I think that's pretty impressive. HAH!
Pistol & Petals Dry Fire Pillow, $29.50
SR: Tell me a little bit about how and why you started Armed In Style.
HR: My most basic answer is that I was not happy with the selection of gun-supporting products for women.
I've always been pro-2nd Amendment and grew up with guns and knowing how to shoot, and I've always been into helping women become more comfortable with firearms and taking control of their own safety. I was looking, myself, for some cute shirts to wear to show my support for the 2nd Amendment.
I wanted cute and subtle shirts, and most of the shirts available that I had seen before I launched Armed In Style were super bold (guns blazing) or western-looking. They just were not, in my opinion, very trendy or stylish.
I knew I had some cool ideas and started looking into designing and how to get them printed. Before long I was ready to bring more style to the gun industry and mostly to the women. My goal was to add a touch of style and femininity to firearms fashion and to help educate and encourage more women to support the 2nd Amendment and their right to bear arms.
SR: Did you always intend on starting your own business? Have you always been interested in fashion design/product design?
HR: I did not ever think I would have my own business. I have a bachelor's degree in dental hygiene and I practice dental hygiene two days a week, even still.
But as long as I can remember style and fashion were important to me. I can remember being in the 4th grade and I altered one of my tops myself to achieve the look I wanted. I turned it into a lace-up top, kind of like a corset style. My mom let me wear it with another shirt under it and I was so proud of it.
Throughout my life I've changed/altered my clothes to fit the look I was going for. I never saw myself making a business out of getting my ideas out and available to others until about two years ago. It feels really good to have a creative outlet, and for people to be reacting really positively to it.
SR: What challenges have you faced in starting your brand, and what are you most excited about where your company is concerned?
HR: I've been really blessed so far with my business and it's been relatively easy from my perspective. But I don't mind hard work and late night hours to get stuff done.
It did take a lot of work to get it up and running -- about two months of super-consistent long hours to get designs ready, products chosen, and the website constructed. The biggest challenge was probably scaling back and starting smaller than I want Armed In Style to be.
I have big plans for the future but I didn't want to start off in debt, so I decided to start small and let the business grow itself before we expand our offered products and come out with new style lines. So one of the biggest challenges is being patient.
SR: How has firearm ownership, or the 2A in general, effected your life? Was there anything specific that sparked your interest?
HR: I grew up around guns and shooting was a normal thing. My dad has had his concealed carry license for as long as I can remember. So I learned from a young age that having the means to protect myself and my home is a right and I've embraced it from the beginning.
As soon as I turned 21, my mom, my brother, and myself took our handgun carry class together and we all got our concealed carry licenses at the same time. From then on I started carrying my firearm and it really brought me a lot of comfort knowing I could effectively defend myself.
Prior to that I carried a knife and pepper spray. I grew up in Knoxville, TN where the terrible kidnapping and gruesome murders of Channon Christian and Christopher Newsom took place in 2007. I was 18 years old at that time and was scared to drive anywhere in my hometown alone, especially at night. I always had my knife and pepper spray, but did not feel as safe until I was able to carry my firearm after turning 21 and getting my license the first chance I had.
The sense of security I have from the exercising my 2nd Amendment rights is huge, and has made a huge difference in my life. I am aware of the reality of danger and random violence and now that I'm a mother to two wonderful young boys I take my role as their protector seriously and will take any means to protect them. And in my opinion, utilizing my firearm is the most effective tool against an attacker.
SR: How often do you go shooting? Do you have a favorite firearm that you own?
HR: I normally go to the range weekly, less now that my husband is deployed, more like once a month right now. But weekly is my goal.
I am a member at Oak Ridge Sportsmen's Association in Oak Ridge, TN and we have great action pistol lanes and I love to go there and set up some steel and the plate rack, we can set up cover and practice shooting around barriers and moving and shooting.
Shooting steel is my favorite, the ring of the steel is so satisfying!
I pretty much carry my firearm anytime I leave my house and often in my house, as well.
My typical everyday carry is my Ruger LC9s. It's a 9mm so I feel confident in its stopping power and it's small and easy to conceal. I also sometimes carry my Glock 19, which I mostly use for competition shooting. I love it more than my Ruger, but it's more difficult to conceal.
My favorite firearm is my Glock 19. I had the slide custom-coated by Adam, from Lebreux Tactical, with a white marble design that fades into rose gold. I'm obsessed with it!
SR: Yes I always notice your gun in your Instagram photos! Tell me more about that beautiful custom work you have on your gun. Is it white marble?
HR: I'm so glad you noticed my custom slide! Yes, it's a white marble design that fades into a rose gold sparkle at the tip. Adam, from Lebreux Tactical, did the custom Duracoat for me and I'm obsessed with it!
SR: I know social media has played a big role in Armed In Style (@ArmedInStyle). What has that been like?
HR: It's been really fun! I've had massively positive feedback and huge support from other 2A supporters. It feels great to be a part of the gun community and I love the support we have for each other online.
The awkward part is taking all of the selfies. I mean, I don't hate it but just the act of taking it, I always feel silly. I don't have an issue laughing at myself and some of the pictures I take turn out pretty hilarious. I only post the good ones that make me look operator or super cute, LOL! I mean, it's Insta, we all do it, right?!?
SR: Yeah, someday I'd love to post my blooper reel of all the photos that just look awful! Gotta keep it real sometimes! Haha
SR: Do you have any tips for women who are looking to start their own business?
HR: My advice is to stay true to who you are, don't change for the likes or the fame. Taking some risks are good, but make sure they are ones that if they don't pan out as a success then you would be able to recover from it. I didn't go to business school, so I'm just speaking from my experience.
I think people respect professionalism, so stay professional. Don't argue with the haters, I just delete their comments or block them. Also, be ready for the haters to come at you and not be phased by them. They are usually jealous or ignorant. I don't let it get me down. As long as you're professional and respectable then there is nothing to feel insecure about.
It's easy to get caught up in the small amount of negative feedback. Focus on the positive and adapt when you need to.
Bring Me Flowers & Ammo iPhone Case, $15.95
SR: I know you mentioned your husband is deployed right now. Thank you to him for his service, and thank you to you and your family for your support! I'm sure you're so proud of him but that it can also be extremely difficult. Tell me a little bit about what that experience is like for you.
HR: Thank you for the support! I am so proud of him and glad he is serving our country and yes, it's difficult on me and our children.
I am so grateful that I have a large family and a close church family that helps me out so much. I have tons of people to lean on and that help me out, but it's so emotionally hard to be apart from him.
The hardest part is when the kids are missing him. They fully understand that he is serving our country and helping keep our country safe so we can continue to live free, but they miss their dad. He is their hero and he is a great father!
I know he misses us too and it's probably even harder for him to be apart from us, than us from him. His whole world changes. He's in another country, isolated, working long days, long weeks, long hours, in tough conditions.
The hardest and most difficult thing I've faced with this deployment is just juggling our family's busy schedule on my own. I have a hard time asking for help, even though people offer it. It's difficult for me to let others pitch in, even when I need it. The kids are older and involved in sports, and any sports mom knows that hustle of practices, games, homework, etc. Throw in my dental hygiene job and my Armed In Style business...we have a lot going on.
My trick to staying sane and not blowing up with all of the stress is exercise and fitness. I try to workout five days a week and I always feel so much better and happier when I workout.
I can keep myself pretty distracted during the day, but at nighttime it sets in how much I miss him and it's hard to get to sleep without him here.
SR: How has this experience with him being deployed shaped your experience as a woman?
HR: We have been married 10 years in May and he's been in the service since before we were married, so we have weathered many deployments, probably more than 13.
It has definitely shaped me as a woman in the simple fact that I have to learn to handle things on my own, I can't just call and ask his opinion on something. I have to make all of the decisions myself. I call it "deployment mode". I tend to speak up more for myself and become more assertive when he is gone.
On the opposite spectrum, I actually have more patience with my children when he is gone. I think it's because I just can't imagine how they feel missing their dad and I speak softer to them and take more time when they are frustrated for no reason. They don't know how to handle their emotions effectively yet and even though I feel like blowing up too, I have to be a good example to them. We are going through the same thing together.
But if you're not one of my kids, then don't mess with me, LOL!
I'm sure it's probably had an affect on my view of the 2nd Amendment, that he's not here to "rescue" me if I'm attacked. I definitely know I'm the only defense for myself and my children when he's on the other side of the world.
SR: What is the biggest thing you'd like readers to know about families who have loved ones deployed?
HR: Probably the biggest thing that I find myself trying to explain to others about our family when my husband is deployed is that we are not sad or upset that he is deployed.
Yes, we miss him and yes, we count down the days and it's super hard to be apart, but we are beyond proud of our family's decision to serve our country. We are so supportive and we chose to serve our great nation as a family, obviously knowing deployments are part of the deal.
I think more of our society is getting away from a service mindset, helping others, or working for a cause larger than ourselves. Being a military family is hard and it takes patience and long suffering at times, but it is a huge honor I would not trade for anything else. I support my husband and his service in our military and the best thing is when others support him too. Just saying a simple, "Thank you for your husband's service," just makes my day.
Coffee Mascara Pistol, Ladies' Junior Fit Scoop Neck T, $28.50
SR: How do you find balance between work life, family life, and 'you' time:
HR: That's a tough one. I feel like I don't find balance, I just put family first and then make time for business in the cracks.
SR: What gets you out of bed in the morning?
HR: Normally my kids. They are 6 and 4 years old, so they wake up super early….every day. Every. Single. Day.
And coffee, coffee definitely helps!
SR: What would you like 2nd to None readers to know about you?
HR: I'd love for them to know that I'm a Christian first, I have respect and love for everyone, even those with differing beliefs and points of view. I will fight for my rights and values and I won't back down from my beliefs.

SR: Can you tell us anything about what is in the future for Armed In Style? (Both you, and the brand!)
HR: I have lots of ideas for the future. Keep your eyes peeled for an upcoming collaboration with Armed In Style and a cool holster company. We are working on a line of designer holsters, designed by yours truly! I'm so excited and can't wait for you all to see what the future holds. From morale patches to boutique concealed carry-friendly clothing, time will tell.